Playing roulette online is a popular pastime for many, especially for those who like to take a bit of a gamble. Although a game that is predominately down to luck, there are some skill aspects to online roulette, too! There are no betting systems that can help a person beat the roulette wheel, as the game is reset every time it is played; however, there are clever ways to bet that can help you maximise your chances. Let's take a look at how to play online roulette, how to bet and some top tips that may help you win.
How to play Online Roulette
First of, you need to sign up to a site that lets you play roulette online. There are dozens of these available, all with different types of roulette to play, so find the one that suits your needs. There are two main types of online roulette; French (also known as European) or American. The European version of the game will have 37 slots, consisting of 36 numbers and the 0 slot. American roulette will have 38 slots – 37 slots and the 0. Once you've signed up and made a deposit, it's time to get that wheel spinning! Here are the basics of how to play online roulette:
Choose how much you want to bet by selecting the number of chips to play.
Pick where you want to place your bet. There's lot of different types of bet you can play in online roulette, which are covered further down.
Once you know exactly where you want to bet, and how much, place the bets down and then spin the wheel. The ball will bounce into different sections until it finally comes to a stop.
Have you won? If you placed a bet on the section that the ball landed in then you're a winner! Now you can repeat the bet, remove your chips or add more chips to play again.
This fast paced game can keep many people occupied for hours; you may be surprised how fast time flies. Test online roulette out a few times using a free version before you start playing for real cash, in order to determine your own betting strategy.
Types of online roulette bets
There are 13 (unlucky for some) different ways you can place a bet when you're playing online roulette. You don't have to remember all of the different betting types, but they're handy to keep in your mind when you're playing.
Inside Bets
One number bet – Betting on one number can secure you the biggest payout in online roulette, but they have the toughest odds.
Split (two number bet) – The second toughest odds and therefore the second biggest payout. The two numbers must be together on the roulette board.
Street (three number bet) – Place your bets at the end of a row on the roulette board and this is called a street. The odds get slightly better here as you've got 3 chances to win.
Corner (four numbers bet) – This is a popular inside bet between online roulette players, as the odds are much better than any of the above. Put your chips on the corner of all four numbers to place this bet.
Five numbers bet – This tends to be a combination of a corner bet and a one number, or a street and a split.
Line (six numbers bet) – The best odds for any inside bet is a whole line of the roulette table. Put your chips at the end of the line to place this bet.
Outside bets
Red or black – The most popular bet when playing online roulette, with 50/50 chance of winning. Many games have been created with the red and black theme in mind.
Odds or evens – This is another popular bet when playing online roulette, again with 50/50 chance of winning.
Low bet – Found on the left side of an online roulette table is the low bet. This means you're betting on all numbers from 1-18.
High bet – This is found on the right side of an online roulette table and means you're betting on all numbers 19-36 (in European roulette).
First 12 – Shown on the board as '1st', this is a bet on all numbers 1-12
Middle 12 – Shown on the board as '2nd', this is a bet on all numbers 13-24
Last 12- Shown on the board as '3rd', this is a bet on all numbers 25-36
Inside bets have the least odds when it comes to winning, but they have the highest payouts. Outside bets give great odds but your winnings will be less. Try a combination of betting types to see what works best for you.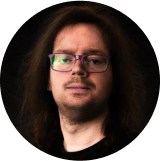 Author
Gavin Lenaghan
Gavin writes on a wide range of subjects, including articles and reviews about online casinos, slots, bingo, poker, and sportsbooks. He has considerable expertise in the games, customer service, and other aspects of today's leading gambling and betting portals.